The Gujarati film 'Madhav', which is currently in constant discussion and which people are eagerly waiting for, is releasing on October 14, and today the title song of the film Madhav has been released.
Said Film is Produced by Vivek Thakkar, JACE Productions & Directed by Hetal Thakkar who successfully organized the Gujarati Iconic Film Awards – Gifa, His debut Gujarati police film Madhav's, title song 'Madhav Aave Che' is sure to be loved as the song has music by Mehul Surti. Sung by popular singer Kirtidan Gadhvi, lyrics written by Parth Tarpara and performance in the song by the film's lead actor Hitu Kanodia, and choreographed by Prince Gupta.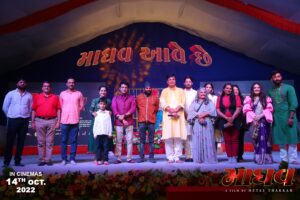 This song 'Madhav Aave Che' composed with the collaboration of many famous people from the Gujarati film world is nothing less than a Bollywood or South movie, the music, lyrics, dance of the song will make you feel like a superhit song from any South or Bollywood movie, When you will watch this song. So you can understand that it can be said that becoming the title song of a film in this way and in such a nice way is a big event in the Gujarati film industry, indeed it seems that 'Madhav' will take Gujarati films in a new direction.