Surat :India's leading commercial electric vehicle maker Altigreenwill be inauguratingitsbrand-new retail experience centre in Surat (Gujarat) on January 20th, 2023. As per the company, the experience centre will showcase Altigreen's range of electric cargo vehicles to the customers. For the partnership, Altigreen opted to join hands with Jubilant MotorWorks one of the leading names in Automobile Dealership across India.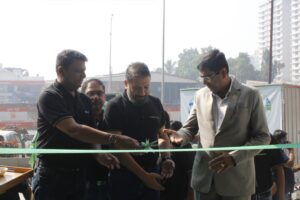 Jubilant MotorWorks was incorporated in 2009, taking over the operations of Jubilant Enpro, which was till then, an importer of Audi cars into India. In 2022, Jubilant Motorworks entered the sustainable mobility space as dealer partners with world-class brands such as Altigreen Propulsion Labs and Ather Energy in Karnataka, Maharashtra, and Gujarat. Jubilant MotorworksPvt. Ltd. is amongst the most professionally run car dealerships in India, guided by their ethics and value system, making them the preferred partners for global OEMs.
The Altigreen Retail Experience Center in Surat will be launched at the hands of Shri Himanshu Bodawala (President,Southern Gujarat Chamber of Commerce& industry). With the launch of this retail dealership, Altigreen continues its commitment to providing its consumers with a much better approach as the world of automobiles is taking a shift from internal combustion engine vehicles to electric vehicles. Every element of the dealership has been designed to lend a welcoming feel, especially to all those walking in, including autorickshaw drivers, small business owners, and people from all walks of life. Altigreen has done their best possible efforts to ensure the dealership reflects the company's ethos to reduce vehicular emissions the company and its endeavour to gain the trust of consumers.
Dr Amitabh Saran, Founder and CEO, Altigreen, said, "With the launch of this new retail experience centre in Surat we are steadily building a strong nationwide network to cater to the rising demand for commercial EVs in the country. As a homegrown company, we take great pride in delivering Made in India products. We are investing significantly to strengthen our production and R&D capabilities while developing a robust pan-India distribution network to offer the best and cleanest last-mile transportation. We are happy to continue our partnership with Jubilant Motorworks, now in Surat as well, and deliver world-class products in multiple vehicle categories."
Speaking on the occasion, Mr. Amit Jain, CEO – Jubilant Motorworks Pvt Ltd. said, "It's a momentous occasion for us to partner with Altigreen in chiselling the future of mobility in the country. We are aligned with the recent E mobility trends and already see a massive potential driven by the nation's agenda of electrification. We are extremely happy to be able to introduce eco-friendly mobility and a sustainable future into our business fabric. We areintroducing the full range of Altigreen' s premium quality vehicles for the first time inJubilant Motorworks' facility inSurat.
As per the norms issued Gujarat Electric Vehicle Policy, under the scheme the state will provide subsidies to those buying EVs under all three categories – two-wheelers, three-wheelers, and four-wheelers. An incentive of Rs 10,000 per kWh of battery capacity will be provided to electric scooters and electric motorcycles in the state. To further entice buyers, the Gujarat government has also announced that it will waive off the registration fee for buyers of electric vehicles, making them even more affordable. This particular version of the Gujarat EV Policy will be valid until the 1st of July, 2025.
The Adviser said various incentive provisions had been made in the policy to encourage people to switch to e-vehicles.