Ahmedabad, November, 2021: From the past 2 decades, prominent manufacturers have been serving the Indian consumers the same design, aesthetics and packaging as one cannot find anything new in the market. The consumers have gotten disgruntled with the repetitive 2 wheeler automobiles and still they're purchasing it as there has been no new innovation thus far. Now with CSR 762 it comes as a breath of fresh air because it is new in design language, technology, packaging, combination of segments and performance range for an EV that is considerably long lasting. CSR 762 happens to be the first 2 wheeler EV product that offers 30L boot space for the consumer where one can put their helmet, riding gears, cell phone chargers and groceries. 
The final designs have been confirmed and the product is in the approval stages from the government before it rolls out into the market in the first quarter of 2022. Things are moving at godspeed as Svitch Bike has established 125 touchpoints with dealers and distributors across pan-India and another 250 touchpoints are on the go. The new gen CSR 762 comes with battery swappable technology where Svitch would provide battery swapping ATMs for all the users. This new generation EV superbike would not burn a hole in your pocket because it comes at a much affordable rate which will equip the middle class to purchase it. This brilliant move would remove all the hindrances related to EV. It is meant for the mass audiences and Svitch is targeting all the college going students; they are also in talks with many domestic universities regarding the same.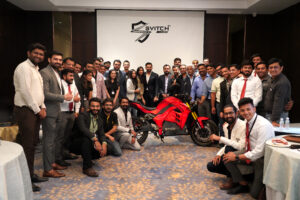 Mr. Raj Patel (Founder & MD Svitch Bike) Said that, Svitch, who has a customer base of now thousands, aims to touch a million users by the end of 2022. Svitch recorded great sales even in the grim times of Covid which is a testament to the fact that it is not playing around; it has arrived and it is meant to stay.The reason which makes Svitch Bike and CSR 762 so special and unique is their ability to deliver premium and affordable solutions to consumers from all walks of life.