The paradigm of the game changes dramatically every time a contender enters the Bigg Boss house as a wild card entry. This time there are not one but two who are about to make a 'Wild Card' entry into the house in the upcoming episode! After creating a solid impact on the OTT format, Neha Bhasin and Raqesh Bapat enter the Bigg Boss house, which prepares for Diwali. Their OTT experience has given them enough experience to become fierce competitors this season!
While Raqesh and Shamita are at the start of a relationship, Neha is also extremely close to her, which indicates a drastic change in the equation between all the housemates in the near future. Even Nishant had a terrific rapport with Raqesh while Pratik was tight with Neha in the Bigg Boss OTT season on VOOT. With rivalries already intensifying in previous episodes with the entry of a new contestant (who shared a bond with an existing contestant before the show), this plot twist promises to be a game-changer.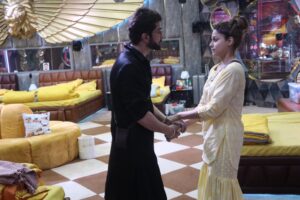 Neha Bhasin talks about her upcoming journey in the Bigg Boss house, "This season of Bigg Boss already has some terrific competitors, including a couple of dear friends. I know I'll thoroughly enjoy this show, given that I have never found any other challenge to be as invigorating as 'Bigg Boss.' Winning this glorious competition will be no walk in the park, but I am ready for anything that comes my way. Though people may have a light-hearted impression of me, I will not hesitate to bring out my fighting spirit at the right time!" 
Raqesh Bapat also shares his thoughts about re-entering the Bigg Boss house (in a different format), "OTT season was great, but our 'Wild Card' entry in the Bigg Boss 15 house will make the journey even more amazing. I'm so happy to spend more time with Shamita as I also saw how much she was missing me inside the house. Hence, I feel this is the right time for me to enter the house! This is the ultimate game of survival and glory! I will always remain this way and will try to win the game on my own accord. I am well prepared and confident of my decision to enter the house; it will be a roller coaster ride of emotions, gameplay, and changing equations. I am looking forward to this new journey with high spirits."
Keep watching 'BIGG BOSS', presented by TRESemmé, powered by Knorr and Dabur Dantrakshak Monday to Friday at 10.30pm and Saturday-Sunday at 9.30pm only on COLORS!