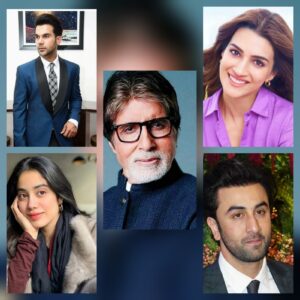 A sense of home can never be bought but all of us aspire to an abode that reflects our most cherished dreams. For celebrities too, homes are spaces where their personal and professional milestones are celebrated and their dreams come to fruition. For some, real estate is also a great investment option and many stars buy a second or third home with an eye on future returns. Here are some of the celebrity buys that fall in both these categories.
The Bachchan penthouse: Amitabh Bachchan owns many iconic properties like Pratiksha,  Janak, and Vatsa in Mumbai including the landmark bungalow 'Jalsa.' The latest news is that he has recently invested in a stunning penthouse worth crores. Sprawled across 5,184 sq ft, the property includes a six-car parking slot and occupies the 27th and 28th floors of a 34-storey building developed by Anand Pandit Lotus Developers. Whether he will live in it eventually is not clear but the purchase goes to show that the search for the perfect home or a great investment never ends.
Ranbir Kapoor: In the news recently for his wedding to fellow superstar Alia Bhatt, Ranbir Kapoor invested in the home he got married in quite some time back. The capacious home situated in Vastu Pali Hill was designed by Gauri Khan and was the focus of all eyes during the wedding celebrations last month. He is also overseeing the construction of a brand-new family home. Alia Bhatt also has a flat in Vastu,  another one in Juhu, and also in London's Covent Garden.  The Kapoor and Bhatt real estate portfolio is one of the most extensive and diverse in the film industry.
Kriti Sanon: Upcoming star Kriti Sanon has made a big purchase in  Atlantis, one of the most aspirational addresses in Mumbai.   These luxurious condominiums designed by Lotus Developers are attracting a lot of attention and Kriti's first-ever home is supposedly packed with personalized touches and especially curated modern amenities that suit her lifestyle and requirements. Most young stars prefer well-designed homes with great views of the city skyline and Kriti is no exception.
Janhvi Kapoor: Another young star, Janhvi Kapoor is spreading her wings in the real estate market as well and has bought a brand-new property in Juhu. She has reportedly splurged close to  Rs 39 crore on a 4,144 sq ft,  four-storey home across the 14th, 15th, 16th, and 17th floors of a property developed by Lotus Developers. This dream home of considerable proportions has been designed in keeping with her exact specifications and wishes and is supposedly one of the biggest purchases by a first-time buyer in Mumbai.
Rajkummar Rao: A spiral staircase, gleaming floors, streaming sunshine, curated art and specific spaces for entertainment, socialization, family time and creative rumination culminate in Rajkummar Rao's dream home. He sure has come a long way from   Gurugram and the long years he spent in Mumbai, struggling to find a foothold as an actor. Today, he has not only carved a niche in the film industry but also moved into an enviable dream home with his wife Patralekha.   This Lotus Developers property is packed with mementos and a lifetime of dreams and its price currently is a matter of speculation. For Rao, needless to say, his home is priceless.