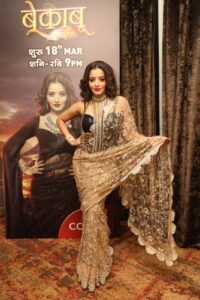 Tell us something about the show 'Bekaaboo'.A first-of-its-kind fantasy revenge saga, Bekaaboo tells the story of how two mystical clans are pitted against each other while one tries to find the key to control the multiverse and the other is determined to prevent them from doing so. It will be interesting to watch what happens when the descendants of these families – a pari and a rakshas will unpredictably fall in love.
Tell us about your character in the show.I will be essaying the role of Yamini, who belongs to the clan of rakshas. I'm an antagonist and my character will do anything to ensure that the rakshas masters the multiverse. This role gave me the chance to experiment with my look, which is inspired by the style of iconic leading ladies of Bollywood such as Sridevi, Madhuri Dixit Nene and Divya Bharti. I hope the viewers embrace me in this new avatar.
Why did you choose to play this character?As an actor, I've played a variety of roles on television and in films, and I've always enjoyed trying out new roles in different genres. This role is an opportunity to be part of COLORS' endeavour and the vision of Balaji Telefilms to make the space of fantasy fiction exciting on television. I'm glad that I joined these two incredible powerhouses of the entertainment industry.
What makes this show different from others?Bekaaboo is a unique show that sets itself apart from others on television. What makes it different is its captivating storyline that takes the audience on a thrilling ride. The show has an abundance of great VFX that enhances the viewer's experience, and the twists and turns will keep them on the edge of their seats. What sets Bekaaboo apart is its combination of action, drama, and adventure. It's a one-of-a-kind blend that we rarely see on TV. Additionally, the show offers wholesome entertainment that the audience can watch with their family.
What are your thoughts on returning to work for COLORS?I am thrilled to be returning to work for COLORS. The projects that the channel has offered me in the past have been instrumental in giving me the recognition I have today. Bekaaboo marks my third collaboration with COLORS, and it feels like I am coming home. I have always been impressed by the channel's ability to understand what the viewers want and cater to their preferences. They have consistently delivered quality content that has kept audiences engaged and entertained. Working with the COLORS team is always a pleasure, and I am grateful for the opportunity to collaborate with them once again on Bekaaboo. I am excited to see how the audience responds to our show, and I am confident that they will enjoy watching it as much as we enjoyed making it.
Tell us something about your co-actors, Shalin Bhanot and Eisha Singh.Shalin and I share a common bond of having been a part of the Bigg Boss family. It's been great to have him as a co-actor on the sets of Bekaaboo. He's a talented actor and it's been wonderful working alongside him. As for Eisha, I am getting to know her better as we work together. She
appears to be a dedicated actor and that's something I appreciate. It's been a pleasure working with both of them on this exciting project.
What is your message to the viewers?I am extremely excited for the viewers to watch our hard work come to life on screen. Our team has put in a lot of effort to make this show an exciting and thrilling experience for the audience. My message to the viewers is that this show is for everyone, and I hope that each and every one of them will enjoy it. We have included plenty of twists and turns that are sure to keep the audience on the edge of their seats.
Stay tuned to 'Bekaaboo' premiereing from 18th March every Saturday & Sunday at 9PM only on COLORS!