TiE (The IndUS Entrepreneurs) originally founded in Silicon Valley is dedicated to fostering entrepreneurship through mentoring, networking, education and funding. A non-profit organisation and with the objective of giving back to the community, TiE is committed to nurture the next generation of Entrepreneurs.
TiE Ahmedabad chapter is led by successful entrepreneurs of this city every year. The new Governing Board for the new term took over from this week, led by the new President Mr. Jatin Trivedi (Sr. Partner, YJ Trivedi & Co), Vice-President Mr. Jaimin Shah (Co-Founder and MD, Dev Information Technology Ltd. & DevX) and Hon. Secretary, Mr. Bhavin Bhagat (Co-founder & CEO at IndiaBizForSale.com)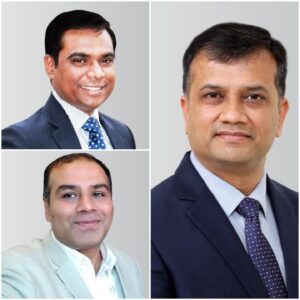 Jatin Trivedi believes that start-up economy has achieved a major milestone with 100 unicorns and have positioned India on the global map among the world's fastest-growing start-up centres. While Bengaluru, Delhi-NCR continues to enjoy its dominance as the start-up hub of the country, by leveraging TiE's global network and Entrepreneurial experience, TiE Ahmedabad will strongly focus on identifying and nurturing talent especially in Gujarat,for them to take significant leap in the times ahead.
With 360-degree association with Entrepreneurship, Ahmedabad chapter is vibrant, sector-agnostic and well-connected to the Gujarat start-up ecosystem and act as one-stop-integrated-guidance for MSME Founders (through various programs like TiE University, TiE India Angels, TiE Women forum and TiE Young Entrepreneurs)