UNICEF considers the early years (between 0 to 8 years) as  the most critical for a child's growth and development as it is during this time that the foundation for all future learning is laid. Better educated children grow up to be empowered adults who can positively  contribute to the nation's social and economic development. Preschools hence play a hugely important part in shaping the minds of young children. Here is a pick of some institutions  across India  that are redefining early education with an emphasis on future-forward learning.
TreeHouse chain of preschools:
Founded by entrepreneur Rajesh Bhatia, TreeHouse offers children audio-visual aids, dramatic play, a hybrid learning model and the guidance of well-trained educators.  With a mix of different pre-education  teaching methods, TreeHouse sharpens their interest in the natural world as well as their social environment and strengthens their linguistic, cognitive and mathematical skills. During the lockdown phase and extended closure of schools, TreeHouse plugged learning gaps through online classes and fun activities that made children feel connected to their peers and teachers even in the absence of external stimuli. At the middle and higher school level, TreeHouse has also launched vocational-training courses to make young students future ready.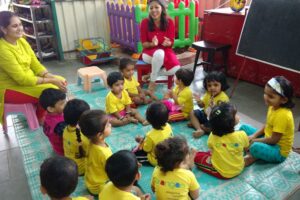 EuroKids: 
EuroKids network is spread across three countries with more than 900  preschools in over  350 cities. The preschool chain has catered to  around 3,00,000 children and counting. The teaching modules at EuroKids are designed to inculcate joy in holistic learning amid an empathetic, safe, hygienic and  nurturing environment. With the help of  scientifically designed games, toys and technology, children organically absorb tough concepts and thrive as enthusiastic learners. The teachers also engage regularly with parents and especially during the pandemic, helped them to become an intrinsic part of their children's education. The idea is to initiate children into schooling on a positive note so that when they start formal education, they have no fear of learning and can make huge strides quickly.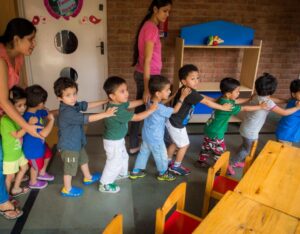 Kidzee: 
Kidzee's  interactive pedagogy named iLLUME, is specifically  designed to help children realize their full potential  in a methodical, synergetic, stress-free and natural manner. It is also India's  only university-verified preschool curriculum. Kidzee's teachers are especially trained with  techniques, which are most suitable for young children.  Kidzee is also known for its special proficiency in ECCE (Early Childhood Care and Education) in India and Nepal and has over 1900  centers spread across more than 750  cities in India and Nepal. Over 9,00,000 children have been prepared for higher education at Kidzee and the chain of preschools has made important strides  in the CDE (Child Development & Education) space.
Klay Schools: 
KLAY offers  innovative  at-home, virtual learning programs that are  interactive and safe and let children learn at their own pace with thoughtfully designed assignments, interactive sessions and comprehensive assessments. A gamified, easy to use  platform called Playablo teaches children with the help of avatars, interactive games and rewards and also  provides access to a student's  assignments, learning resources, report cards and certificates. The teaching methods are  age-appropriate and the curriculum based on Dr. Howard Gardner's Theory of Multiple Intelligences and Experiential Learning,  empowers the child to  work independently. Socio-emotional and physical development are emphasised with the help of group activities, role play, story time and drama.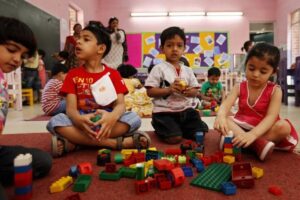 Podar Jumbo Kids: 
Established in 1927, by Sheth Anandilal Podar, Podar Education Network has over 94 years of experience in the educational space. Podar Jumbo Kids is known for  its conceptualised curriculum which is based on  the Playway methodology and caters to children ranging from toddlers to senior kindergarten children. The school takes pride in its well-balanced  teacher-student ratio that focuses on providing personal attention to each child. Teaching methods conform to the concept of 'Kiducation' and focus on their all -around  development. The preschool chain has a convenient and nurturing daycare facility as well for children of working parents.