Ahmedabad: If you are willing to do some time pass or want to have fun then make some random calls and try to make fun and ultimately get you into trouble.The story starts with young college kids just dialling random numbers making some random calls and saying "tame koncho a mane khabarcheane tame je pan karyu a ame  joyu". After making a few calls, these kids get into deep trouble and the story begins.The kids then become detective themselves and follows the trouble maker and unfortunately gets into more trouble.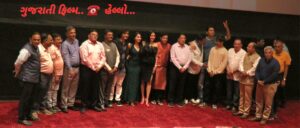 The Gujarati crime thriller "Hello," directed by Neeraj Joshi and produced by Parimal Patel Motion Pictures. It also tries to show what it's like to be a police officer and how the drug mafia and the men in khakhi are linked. And most of all, it praises many "Singhams" who have kept organised crime in check by setting up meetings. There are both good and bad police, just like there are two sides to a coin.
This film attracting crime thriller genre loving youngsters was released in theaters on Friday. The trailer was loved by the audience as it showed a lot of suspense. During one of their night stays, three college teens play a silly prank where they randomly call people and tell them that they know who that person is and what they have done. What will happen when things take a dangerous turn?" Their joke takes a very dangerous turn and what happens next will be known only after watching this movie.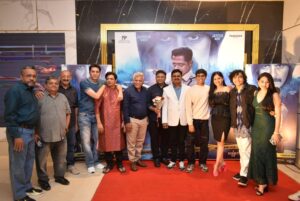 DarshanPandya, Mazel Vyas and AyushiDholakia are making their debut in Gujarati film industry with this film. DarshanPandya, who has made his acting debut in Hindi films like 'Ramsetu' and 'Parmanu.'
Apart from Jayesh More, the film also features DarshanPandya, Mazel Vyas, Rishabh Joshi, Neil Gagdani, AyushiDholakia and NidhiSheth in important roles. Produced by Parimal Patel, the film is directed by Neeraj Joshi and co-produced by Romal Patel and Darshil Patel. HanifSaikh choreographed action in this film. The film is distributed by Panorama Studios. Partha Bharat Thakkar has given the film's top-notch background score.