The famous Sneh Shilp Foundation has always been doing social welfare works. Be it educational expenses of underprivileged children or their maintenance, family welfare, Sneh Shilp Foundation has been a leader in every work. Also, he has been working for the "Drugs Free Future" campaign for some time now. Now the highly prestigious awards "Film Excellence Awards Gujarati 2021-2022" have also joined this society-beneficiary campaign. Film Excellence Awards Gujarati 2021-2022 which is a campaign to take the Gujarati film industry to a new height. These awards are being held in Dubai in the month of May in a grand manner. • A heritage walk is being organized for awareness on drugs free future. In which, many film actors and celebrities are joining. This heritage walk is  going to  held on 16th April, 2023 from 6 am at Swaminarayan Mandir to Jama Masjid for 2.5 km.
Regarding this, Dr. Jayesh Pavara and Mr. Abhilash Ghoda jointly said, "We are very happy to associate with Sneh Shilp Foundation's social useful campaign of "Drugs Free Future". Youths are most addicted to drugs. They spoil their health by emulating each other. Today youth are most motivated by film actors and celebrities. So we have tied up with Sneh Shilp Foundation to empower them and inspire them to stay away from this addiction. If even 10% of youths quit drugs through this campaign, it will do a lot for the society. will benefit."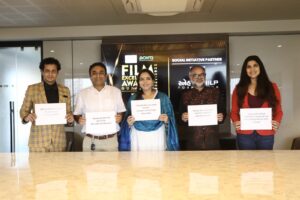 Our Prime Minister Shri Narendra Modi has been working for "Drugs Free India" for a long time. Besides, the Home Minister of our state Mr. Harsh Sanghvi is also doing a lot of activities for this. Film Excellence Awards 2021-2022 has also joined hands with Sneh Shilp Foundation in this social-useful work and has youth icon Ojas Rawal as its main face, who has always been empowering the youth. Apart from Ojas Rawal in the program held for this, RJ Devki, who is famous among the youth, Dr. Pawara Entertainment. Jayesh Pavara, Mr. Abhilash Ghoda of Tihai- The Music People and Snehal Brahmabhat, founder of Sneh Shilp Foundation were present.
Speaking about this, Snehal Brahmabhat, founder of Sneh Shilp Foundation said, "Youth is the future of the country. If their future is in shambles, how can they be useful to the country? For this we have started the "Drugs Free Future" campaign. Under which we have done many activities. Recently we organized a marathon. Now a days very popular "Film Excellence Awards 2021-2022″ has joined us in this event. They have done a lot for Gujarati film industry. Film industry has always given youth Encourages. So through this association we will be able to do more for the benefit of the society."