A mesmerising tale of music and drama, COLORS' recently launched 'Junooniyatt' continues to garner love from the audience with its narrative and performances of the lead actors.  The show follows the lives of three aspiring singers – Jahaan (Ankit Gupta), Jordan (Gautam Singh Vig), and Elahi (Neha Rana) as they pursue their dreams while navigating the complexities of love and relationships. As the show has the viewers hooked, the actors are going all out to offer them an experience worthy of their attention. Ankit Gupta of the Bigg Boss 16 fame, who is playing the role of Jahaan in 'Junooniyat' shares how music has lent him solace amid his hectic schedules.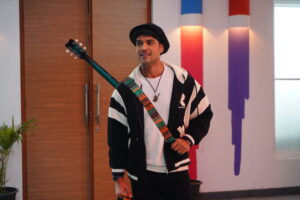 Talking about his love for music Ankit says, "I think music is like a time machine that can transport you anywhere you wish. Music makes everything better. Take any moment and add music to it; it just becomes magical. Serendipitously, I landed a show that is based on music. Amid all hustle bustle of life and a super hectic schedule, music is the ultimate solace I seek. Being part of Junooniyatt has been a blessing. I'm grateful that Junooniyatt is being loved by the audience and I promise to keep my fans entertained as long as I act." 
Keep watching the heartfelt tale of music, love, emotions, and passion, 'Junooniyatt', every Monday to Friday at 8:30 PM only on COLORS.