Since its premiere, COLORS' 'Saavi Ki Savaari' has captured the hearts of viewers with its unique love story of an autorickshaw driver and a businessman. The show revolves around Saavi, an optimistic young woman who defies gender norms and societal expectations by pursuing a male-dominated profession of driving an autorickshaw in Ujjain to support her family. Samridhii Shukla brilliantly portrays the character of Saavi, while Farman Haider plays the role of Nityam, the businessman who falls in love with her. As the story progresses, Saavi and Nityam navigate through the challenges of their married life. However, their relationship faces a new hurdle as Saavi uncovers Raksham's true identity and manages to stop his shraadh pooja, leading to Nityam's decision to divorce her. The upcoming episodes promise to be even more dramatic as Saavi demands her rightful share of the property, while new characters Rishikesh and Laali, played by Hetal Puniwala and Soni Singh, respectively, add fuel to the fire with their scheming ways. The show continues to keep its audience glued to their screens with its engrossing plot and talented cast.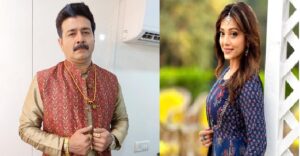 Hetal Puniwala and Soni Singh have joined the cast of the show in the roles of Rishikesh and Laali, respectively, which promises to add more spice to the show. Saavi's life is bound to become more complicated with the introduction of these new characters. Rishikesh, portrayed by Hetal Puniwala, is Brajesh and Nutan's older brother, who is notorious for his selfishness, cunningness, unpredictability, and extreme greed. He has arrived in Ujjain with an ulterior motive of acquiring the Dalmia and Goyal families' empires. Meanwhile, his wife, Laali, played by Soni Singh, is significantly younger than him and enjoys flaunting expensive clothing, jewelry, and accessories. She is aiding Rishikesh in his wicked plan to seize the properties. The question on everyone's mind is whether they will succeed in carrying out their nefarious scheme to acquire the Goyal and Dalmia's property?
Keep watching 'Saavi Ki Savaari' every Monday to Sunday at 6.30 PM only on COLORS!