For the first time, "Vidyarthi Samman Samaroh-2022" organized by Youth-Vidyakul in honor of the excellent results of the students who joined online education across Gujarat.
Vidyakul felicitated the successful students who made Gujarat proud by getting excellent position in 2022. Chief Guest Tarun Saini – CEO of Vidyakul, Double President Award Winner State Level Best Teacher: Baldev Pari, Trustee of Devasya School Shri Goganbhai Sagar, Social Worker from Gujarat: Nitin Jani (Khajurbhai),  Team of Youth Education and Vidyakul from Delhi The entire team were present.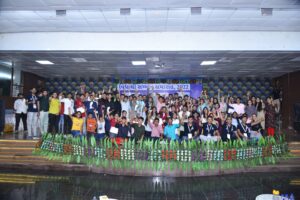 For the first time all over Gujarat, "Vidyarthi Samman Samaroh-2022" has been organized by Youth-Vidyakul with the aim of honoring the excellent results of the students associated with online education. Total of 500 students were awarded.
Vidyakul India's first vernacular e-learning platform aims to make education more accessible in tier-II, III cities. We offer live lectures and pre-recorded courses (from Class 9th- 12th in Hindi, Gujarati, Marathi, and Hinglish) to help state board students to learn academics. Vidyakul – Bharat's first live classes learning app for state board, NCERT , CBSE, serving the after school tuition needs for state board students via pre-recorded and free live lectures from the most prominent trusted local teachers. We cover course content for the class 9th to 12th for state board books, CBSE, NCERT solutions, Exam revision, IIT JEE, NEET.