Experience the unique multi sensorial wellbeing experience with "In search of SOM- ASattvic Innovation" and explore the gentle power of time-honoured therapies as Woods At Sasan, a modern retreat in SasanGir joins hands with Mitti, an organic lifestyle store and café in the heart of Ahmedabad.
Celebrate the resonance of SOM Wellbeing, an eastern philosophy of holistic wellbeing with an exclusive two day pop-up at Mitti Store & Café on 24th & 25th September 2022.
SOM Wellbeing focusses on cherishing wellbeing on a sustainable basis with a holistic lens, blending the best of traditional nutritional knowledge with modern culinary techniques. The Sattvic Meal Plan at Woods AtSasan follows 4 core principles – living and wholesome food, mindful food choices that are light on seasoning, a multi-sensorial experience of eating, and meals prepared and served in accordance with the circadian rhythm.
Experience the Sound Healing session guided by the retreat wellbeing expert- Balachandra who uses holistic healing techniques that enhances instinctive awareness, and keeps your mind clear and focused.
With Chef Haresh's specially crafted, perfectly portioned and balanced meal, explore the trademark Sattvic Silent Dinner on 24th September 2022, a unique experience of a plated sattvic meal eaten in silence. A sattvic lifestyle promotes food habits that are pure, essential, natural, energy-giving, conscious, honest, and wise. Hence, every dish is prepared with living, fresh, and organic ingredients that are ethically bought and wholesome providing high vital energy.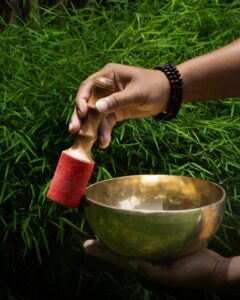 Experience the Slow Celebratory Lunch on 25th September 2022 that revels in the joys of community eating and taking the time to relish every mouthful whilst enjoying the company. These plant-based meals include the use of good fats and natural oils to ensure dishes prepared are tasty yet healthy.
With health as one's most valuable asset, Woods AtSasan'scuration is sure to strike the right chord with mindful guests and seekers of a peaceful experience.
Disconnect from the busy-ness and reclaim your consciousness as your experience an exclusive pop-up, In Search of SOM: A Sattvic Innovation by Woods AtSasan at Mitti Lifestyle Store & Café, Ahmedabad.