Trinity Gaming India, a leading gaming content & marketing firm,announced the launch of a talent hunt and gamer onboarding program called 'NEXT LEVEL' in partnership with Facebook Gaming. After receiving immense success and response at various cities in Punjab and Rajasthan, the 3rd leg of the program took place on the 12th of September at Parul University in Baroda. This program enables gaming enthusiasts at the college level to become professional gamers with the prospect of future revenue streams and careers. The NEXT LEVEL program started on the 5th of September, and will go across 24 cities over the next three-months until the 2nd of December 2022.
The Baroda program consisted of day-long events at ParulUniversity focused on training and mentoring students on how to pursue a career in gaming. The event consisted of activities where students shared the podium with professional gamers and influencers to have an exciting experience of gaming and streaming. A special branded canter has been designed as an experiential zone for the students to come on board, play games, and understand career prospects. The experiential canter started its journey on 5th September and has traveled 1060 KM covering Jalandhar, Chandigarh and Jaipur. The caravan now has moved to Baroda on the 12th of September and will further travel to the following covering 13,810 km in all. The canter is equipped with PCs and all streaming equipment. Influencers were  seen sharing their experiences of successful careers with students and talking about the future prospects in the gaming space.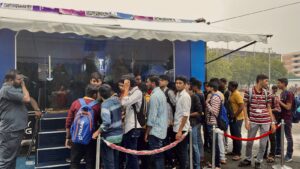 The event concluded with an open Q&A session, where students asked questions regarding their career options and opportunities in gaming. The event witnessed popular, successful gaming and non-gaming Instagram influencers who were present to address student queries.  The students also had the opportunity to interact with popular and renowned gaming creators including Maulikamongst others who have built successful careers on Facebook Gaming.
Trinity Gaming India, which already works with a captive 40 million gamers community, with this initiative will further build talent for sectoral growth. Trinity Gaming India aims to support the Indian youth in making a successful, legitimate career in gaming content creation. The program 'NEXT LEVEL' is designed in a way that gaming enthusiasts and even beginners will acquire the right skill set and market visibility to start generating income. Students will undergo formal training once onboarded with 'NEXT LEVEL' paving their way to join the Indian gaming sector.
Abhishek Aggarwal (Co-Founder of Trinity Gaming India) said, "We are excited to launch the initiative 'Next Level' by Trinity Gaming. This program will help budding and passionate gaming talent from 'Bharat' to start their journeystowards highly successful professional careers in gaming. Takingour state-of-the-art movable gaming facility,'the gaming canter', to 24 cities and 33 colleges, we will be able to give these upcoming stars a first-hand experience in the world of gaming. The overall objective is to create awareness about gaming industry, and help students, parents and teachers understand how this passion can be converted into a legitimate profession."
Shivam Rao (Co-Founder of Trinity Gaming India) said, "After successfully hosting programs in Punjab, Jaipur we brought the program to Baroda to pave the way for budding gaming content creators. Through this event, we will focus on creating awareness about gaming as a concrete career and how gamers can monetize their passion for gaming. Through this initiative, we will not only guide the talented students but also give them hands-on experience and make them learn about the world of gaming."
ABOUT TRINITY GAMING INDIA:
Founded in 2019 by entrepreneur duo Abhishek Aggarwal and Shivam Rao, Trinity Gaming India is a leading gaming content & marketing company. Headquartered in Gurugram, Haryana, the company operates in other geographies like South East Asia (Singapore) and MENA (Dubai). The company has a threefold approach, catering to publishers, platforms, and brands to build India's largest talent pool in the gaming community. Trinity is a Creator Service Provider (CSP) for Facebook and is exclusive to the Facebook Gaming Partner Program for the South Asian Region, The company also caters to Krafton in India by exclusively facilitating content, event, and marketing activities for the brand in the country.