Since Aakar Beauty & Salon Expo was launched in the world of beauty since 2015, Beauty Salon Expo has continued to grow in its capacity to open up new markets and opportunities for the beauty industry in Gujarat. Moving in this direction, the organizers are starting the three-day Aakar Beauty Salon Expo 2022 at Ahmedabad from today, which will be held on September 12, 13 and 14 from 10 am to 6 pm.
Blessing Manikandan, CEO of Tony & Guy South Asia were present as a special guest at Aakar Beauty & Salon Expo 2022. Apart from this, during the three days of the expo, several celebrity makeup artists including Shyamali Bhagat, Vipul Bhagat, Diana Schiffer, makeup artist of Bollywood and cricket celebrities will be present.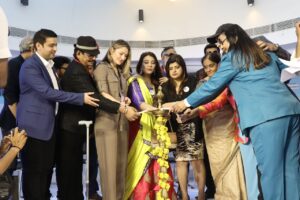 Informing about the 8th Aakar Beauty & Salon Expo 2022, Exhibition Organizer Heena Mehta said, "8th Aakar Beauty & Salon Expo 2022, India's largest exhibition expo in the beauty industry in Ahmedabad, is about to begin today, with 200+ exhibitors and 25000+ visitors to its credit. ."The list includes India's leading makeup artists and hair stylists Jia Sosa, Kavita Patel, Shweta Gor, Ojas Rajani, Rajni Sosa, Rekha Damor, Riddhi Joshi, Rod Anker, Savio John Perera, Simmi Makwana, Alana Barbosa, Anam Siddiqui, Bijal Gada, Nidhi Nanavati, Rupa Thakkar, Bansi Savjani, Bhakti Kakkad, Dimple Soni, Gaurav Bhardwaj, Julie Makwana, Megha Limbachia. Visitors can fulfill their beauty salon search with the skills of the country's leading artists.
Heena Mehta further said about the expo, "In this beauty salon exhibition, this time along with the outer beauty, the inner beauty of the beauty industry is also going to be showcased. Beautiful Hearts Funds, an organization started by India's leading beauty professionals, is playing a vital role in the welfare of people associated with the beauty industry. Officials of this organization are going to give a new approach to this whole endeavor by coming to Aakar Beauty Salon Expo. "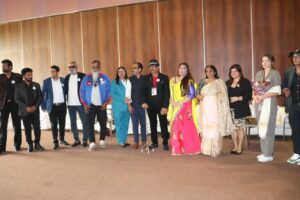 Aakar Beauty Salon Expo 2022 presented by Andis with 1821 as Grooming Partner, Jaguar as Styling Partner, Powered by QT Beauty, Registration Partner Dr.Rachel, as styling partner Mr. Barber is being organized in association with Blush & Glow, Velvettree as hair partner.
People are very conscious about beauty and fashion as beauty plays an important role in building an attractive personality by increasing the confidence of everyone. During this three-day beauty and salon expo, many of India's leading make-up artists and hair stylists, who have worked for many Bollywood celebrities, will showcase their skills by giving live stage demos.
Aakar Beauty & Salon Expo 2022 is going to have various other events along with diversity of beauty and fashion. On September 14, a competition will also be held in various categories in hairstyle and makeup.