Get ready for an explosive mahasangam event as two of COLORS' most popular shows, 'Udaariyaan' and 'Junooniyatt', come together on the 22nd and 23rd of March at 7 pm and 8:30 pm. Produced by Sargun Mehta and Ravie Dubey's Dreamiyata Entertainment, both shows explore the age-old dilemma of choosing between love and ambition. While 'Udaariyaan' follows the story of two sisters, Jasmine and Tejo, who are torn between their dreams of pursuing a career in Canada and their love lives, 'Junooniyatt' revolves around the journey of three friends, Jahaan, Jordan, and Elahi, as they navigate their personal and professional lives in Mumbai. As the two shows unite for the first time, viewers can expect a powerful display of similarities and differences, brought to life by a talented ensemble cast comprising Isha Malviya, Hitesh Bharadwaj, Twinkle Arora, Ankit Gupta, Gautam Singh Vig, and Neha Rana. Get ready for a mahasangam like no other, filled with high-octane drama, heart-wrenching emotions, and unforgettable moments.
Right from the connection between the antagonists of the show to the camaraderie that is struck among the protagonists, these special episodes capture a rollercoaster ride of emotions, motives, and entertainment. The mahasagam features the villains (Jasmine and Ranjeet) of the two stories joining hands and its samaritans bonding with each other as Nehmat agrees to marry Ekam and Elahi is being forcefully married to a diabolical Ranjeet, who confines his wife to keep her from ruining his schemes. Jahaan and Jordan, who have been at loggerheads team up to prevent Elahi from getting married to Ranjeet. Moreover, Harleen, Nehmat, and Ekam from 'Udaariyaan' join forces with the two boys, who buried the hatchet for the same. Will they succeed in foiling the wedding?
Ankit Gupta, who plays the role of Jahaan, expressed his excitement about the upcoming mahasangam, saying, "It is such an incredible feeling to have Junooniyatt blend with Udaariyaan, a memorable show that I've been part of. This mahasangam is special because it shows that God helps those who help themselves. I hope the viewers enjoy the crossover of these two worlds as much as we enjoyed shooting for it." 
Neha Rana, who brings life to the character of Elahi, expresses, "The mahasangam of Udaariyaan and Junooniyatt is like a grand festivity of love and the pursuit of one's passion. Being a part of this epic crossover feels surreal, and I'm grateful to the viewers for their immense love for Junooniyatt. I can't wait for them to witness the magic we've created together with Udaariyaan."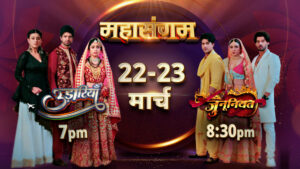 Gautam Singh Vig, who essays the role of Jordan says, "As an actor, it's always exciting to explore new possibilities with your character, and that's what this mahasangam has allowed us to do. I think viewers will enjoy seeing their favourite characters from both shows come together and bring their unique perspectives to the table. This crossover is a special treat to the audience, and we hope they enjoy it as much as we did shooting for it."
Hitesh Bharadwaj, who plays the role of Ekam, comments, "Udaariyaan and Junooniyatt are both backed by the same producers but have two different premises and this mahasangam captures their themes aligning with each other. It is wonderful to work with the talented actors of Junooniyatt, a show that has enthralled viewers. I'm excited that they'll get to watch their favourite characters of both shows unite."
Twinkle Arora, who plays the role of Nehmat, shares, "I feel fortunate to be a part of this epic mahasangam, where two powerful shows are coming together to entertain the audience. Working alongside such talented actors from Junooniyatt has been an enriching experience, and I hope that viewers enjoy the chemistry and camaraderie of our characters. The energy and enthusiasm of both the teams have been phenomenal, and I'm sure that the audience will be hooked to this amalgamation of drama and emotions."
Catch this unmissable mahasangam of 'Udaariyaan' and 'Junooniyatt' on the 22nd and 23rd March 2023 at 7 pm and 8:30 pm only on COLORS!