Ahmedabad, January 2022: Just as 6 to 8 hours of sleep is required in 24 hours, proper amount of exercise, balanced diet and balanced fluid intake are essential for lifelong health and long disease-free life of your body. But in the present time everyone is so busy with his daily life routine and work load, because of that person cannot spend enough time for their personal care. On the other hand, it is equally important to maintain good health. Keeping all these things in mind, Hypoxi has started a fitness center studio in Nehrunagar, Ahmedabad, where you can not only exercise but also get your body in shape without any extra time commitment or change in routine. .
HYPOXI is a World's most effective method that is up to 3 x more effective at burning stubborn fat than traditional exercise. Through our advanced vacuum and compression technology and healthy nutrition, HYPOXI activates your body's natural system to burn specific areas of fat and cellulite.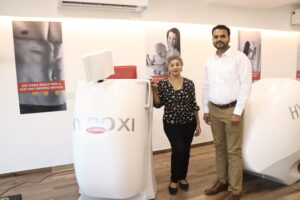 Present on the occasion Mr. Nishit Patel (Franchise Owner), said that due to the current lifestyle and stress, many people are unable to give proper time for themselves and those people become victims of obesity. They cannot eat proper food on time or do exercise. So looking at the scenario we have started this center in Ahmedabad which will help every age person to shape their body in very minimum time.   HYPOXI targets the stubborn fat stores around the stomach, hips, bottom and thighs that traditional exercise just cannot move easily. Spot reduction is possible with the HYPOXI method. By combining healthy nutrition and an active lifestyle, HYPOXI will supercharge your workout to achieve targeted fat burning. It is perfect for men and women wanting to reclaim their shape after significant life changes. It's excellent for new moms wanting to get back into shape after children. It is also helpful for men and women who are mostly healthy but looking for a tune up through targeted weight loss, fast.